The new Winning Sales Habits Podcast is coming soon.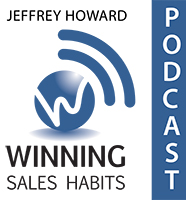 Listen to Jeff Howard interview top sales producers and industry experts while you're driving between sales calls, working out or getting your "game face" on to start your day.  You'll get an inside look at their mind-set, strategy, techniques and habits.  You'll also see what productivity tools make them more successful, what books and articles they read and the "best piece of advice they ever received."
The weekly Winning Sales Habits Podcast will debut the first of the year.  Be sure and send us your contact information to info@winningsaleshabits.com and we'll notify you when episodes are loaded onto iTunes, Stitcher and this website.